Strap On Delights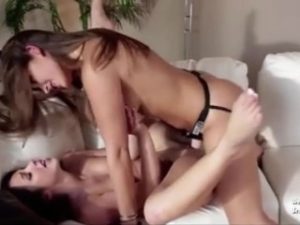 Callers often ask me if I'd had girl on girl sexual experiences, well of course I have, I enjoy women almost as much as I enjoy men. Men seem fascinated in one way, but a bit jealous in another. They don't like that two women can satisfy each other without needing a man. A strapon gives two women the option of penetration if that's what they are going for, and no man required. I have a "special friend" shall we say, and when we play I get out my strapon and harness out and we fuck each other silly.
Licking pussy is a wonderful experience, no wonder so many male callers say it is their very favourite thing to do to a woman. It is incredible to please them and satisfy them with your tongue, tasting their juices that are flowing because you are the one to have so aroused them. Not all men get jealous of course, many love to watch them together and even scissoring their cunts together and getting each other all juicy as their pussy lips smack against each other, as the glistening wetness mixes together.
My girlfriend enjoys quite a big strapon, around a nine or even ten inch one, and she simply screams as I slide it into her, all the way. She often licks and sucks on my nipples as I'm fucking her, as she grabs my ass cheeks and pulls me deeper into her pussy as we make love together. It makes me wet to fuck her that way, and we do enjoy the sixty nine position and licking each other's pussies and sucking on those stiff little clits as we work our way closer and closer to orgasm. There's nothing quite like going down on a woman, you know exactly the right spots to hit. Many men are good at it, but women are great at it.