A Threesome For Christmas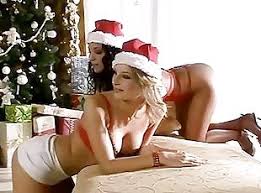 Most guys would love a threesome, there's no doubt about that. I told my boyfriend I was finally willing to do one and he was over the moon with excitement. He was really into lesbian porn, and wanted so badly to watch me with another girl. There was a girl at my gym with a fantastic body, and I approached her and showed her some pics of my boyfriend and she liked his looks and said she'd be willing to join us, so he was happy when I shared this with him. It was his Christmas gift, well, the main one anyway.
We met at my house, and the drinks were freely flowing to relax us all. We went to the bedroom and stripped down, he asked if he could watch us go down on each other in front of him and we happily obliged. We both have shaved pussies, and loved licking each others clits and sucking on each others pussy lips as he stroked his cock and watched us have hot, lesbian sex in front of him. He then came up behind her and slid his cock into her. I laid down in front of her and she licked my pussy as she was getting fucked, with him watching over her shoulder.
He pumped her full of cum and I soon creamed all over her face, she was a good little slut for us both. I've told many callers about my early Christmas adventure and they have all been quite aroused to hear about my naughty threesome as they stroked their cocks. It's fun being naughty. It has been many years since I'd had a lesbian experience and it was fun, especially incorporated into a threesome, which my boyfriend wanted so badly. So he said I'm now on Santa's naughty list, but naughty in a good way, for sure!